Effective, Targeted Marketing Programs for Powersports Dealers
Reach only the consumers most likely to be interested in powersports using advanced consumer intelligence provided by Experian, Polk, Google and more. Only 10% of people are interested in powersports. Stop wasting precious advertising dollars on people not likely to buy. Flatiron uses demographic, financial, behavioral, and lifestyle data to identify the best targets…then reach these prospects effectively using programmatic digital advertising techniques via desktop and mobile ads. These are the same techniques used by leading consumer brands to drive millions of dollars in revenue. We've helped powersports dealers sell over 750 units and generate over $10 million in sales just so far in 2017. It's easy to join, easy to launch, and it's proven to work!
Reach the Right Consumers with Flatiron Targeted Marketing
Using advanced consumer targeting based on demographic, financial, behavioral, and lifestyle data elements, Flatiron helps clients reach the right consumers…at the right time. With full-cycle advertising services we also manage client advertising campaigns through real-time ad exchanges, reaching the targeted consumers wherever they may be, yielding incredible results!
How Does Flatiron Targeted Marketing Work?
Here's how we deliver results…
Targeting only the consumers most likely to be interested in specific powersports segments
Segment-level targeting including Cruisers, Sportbikes, Touring, 4 types of ATV segments, Side-by-Sides…13 separate powersports segments…
Consumer Targeting
Using consumer intelligence from Experian, Polk, Google, and more, Flatiron targets only the consumers most likely to be interested in specific powersports segments and brands. Over 15 different powersports audiences allow us to target the best consumers for your campaign goals.
Compelling Ads
We create the ad content required for the exchanges in 6 different sizes, with compelling visuals, dealer information, and specific calls-to-action, while ensuring co-op eligibility. Dealers can also use the ad content on their web sites and social media posts at no additional charge.
Real-Time Ad Exchanges
Flatiron has full-time ad optimization staff adjusting parameters through the real-time ad exchanges, optimizing ad content, placement, bid prices, ad sizes, dayparting, and hundreds of other settings, while ensuring brand safety, leveraging our powersports experience to continually optimize campaigns.
Leading Web Sites
Dealer ads appear on leading consumer brand sites, including CNN, ESPN, FOXNews, Rolling Stone, Yahoo, and dozens more. Targeted marketing is about reaching the right consumers, wherever they are on the web, rather than just advertising on enthusiast sites to people in the industry.
Providing Tangible Results in 2017
Millions of Ad Impressions
I have to admit I was skeptical at first, but after a few months I see the power of targeted marketing.
This makes all the sense in the world. We've needed to separate advertising to the masses to focus on people ready to buy.
You helped make our new product launch a success. Not only was the event well attended, it was the right type of people really interested in buying.
I don't know how you do it, and I don't want to know. I just want to keep enjoying the success!
How the Flatiron program works…
Here's an overview of the monthly campaign cycle:
We identify the best prospects to target

We create compelling ad content

We launch campaign through real-time ad exchanges

Ongoing campaign optimization, adjusting 100+ parameters to deliver results

Targeted consumers see dealer ads on leading web sites

Targets click on ads or visit dealer site directly, both tracked by Flatiron

Dealer's sales process moves targets towards purchase

Sales occur, over 750 verified so far in 2017

Performance reporting delivered

Adjustments for next month, incl. goals, budget, ad content, consumer targeting
We Create Compelling Ad Content for Your Campaign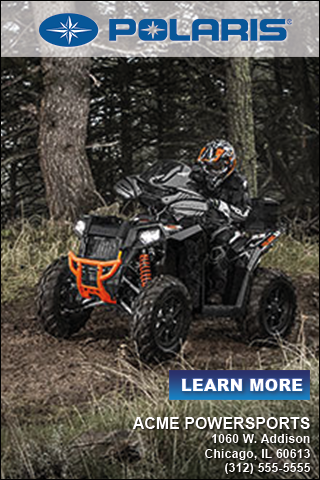 Flexible Investment Levels to Meet Your Budget
Platinum
approx. 3 million ad impressions
Gold
approx. 2 million ad impressions
Silver
approx. 1.3 million impressions
Bronze
approx. 1 million ad impressions
MOST COMMON
Copper
approx. 500k ad impressions
Getting Started is Easy…Then Turnkey Once Launched! 
Choose your investment level, set the goals, give webmaster the tracking code, then approve the assets. It's that simple…and remember, you can change your campaign and budget levels monthly, even skip a month or cancel. We've worked to make the program as easy as possible for powersports dealers to participate.
Set Investment Level – Choose from 5 standard investment levels. Depending on the season, we recommend a lower investment level to start, such as the Bronze level.

Choose What to Promote – We'll work with you to design the best possible campaign, promoting either specific models, segments, special programs or incentives, or the quality of the dealership.

Choose the Consumers to Target – Here, too, the Flatiron team discusses options with you, selecting the best audience to target from among the dozens of powersports-specific audiences we have access to from leading providers such as Experian, Polk, Google, and more.

Share Co-Op Eligibility Requirements – If you want to utilize co-op support, we will make sure the campaign meets all of the OEM requirements and provide you the supporting materials. For some OEMs we can even file the claim on your behalf, making the program as easy as possible for you to manage.

Determine Advertising Area – We'll assist in determining the best zip codes to include for targeting. For co-op eligibility we will use your defined territory as required by the OEM. We can provide insight regarding how many of the targeted consumers reside in your territory to achieve the best balance of distance and target population density.

Sign the Advertiser Insertion Order

– The "IO" is the standard contract used for digital advertising, provided by the trade association governing the industry (the IAB). Please download the IO

here

and return it to info@flatironresources.com when complete. We will countersign the IO and return a copy for your records.

Choose Preferred Reporting – At no additional charge, Flatiron provides multiple reporting options. If you'd like to track the campaign inside your Google Analytics, we will provide UTM codes to track each campaign parameter.

Install Tracking Code – We can measure not only people who click on the ads, but those who see ads and then visit the dealer site later. We provide a small snippet of tracking code to place in your web site. Common powersports hosting companies such as DealerSpike have installed this code hundreds of times. Simply forward the email we provide to your webmaster. The code is valid throughout your campaign so it only needs to be installed once.

Approve Campaign Assets – We will review all the campaign settings with you before "going live" to make sure we are meeting your objectives. This includes the creative content, which we also provide at no cost for your web site and social media uses.
Flatiron Offers Your Choice of Reporting at No Charge
Google Analytics Integration
Monitor campaign performance directly, inside your Google Analytics account, with codes provided by Flatiron.
Sales/Leads Reporting
We match the targeted consumers with your Sales and/or Leads files to measure campaign ROI performance, securely.
Questions?…We've got answers…
Frequently Asked Questions
How do I see my stats in Google Analytics?
Flatiron Staff
2017-08-01T11:26:10-05:00
This is easy. We tag each category of advertisement with specific codes, called UTM codes, that Google Analytics can handle. For instance, if you are promoting two brands, or two models, we will assign different codes to each so you can see which category is driving traffic to your site. But, it's important to note, by far the majority of traffic generated through digital advertising today is when somebody sees an ad and then visits the site directly, rather than actually clicking on the ad. It's about a 10-to-1 ratio of people who visit sites directly rather than click on an ad. We can track people who are exposed to ads and then visit the site directly for 90 days from when they see the ads. In other words, Google Analytics is helpful, but will significantly under-count the traffic generated by the ads.